Holiday Safety in COVID Times
We are facing a tough time as the COVID numbers in our community are increasing and we are approaching Thanksgiving and Christmas.  We must work together to keep everyone safe and our doors open to care for your children!  Here is a graph to illustrate what happened in Canada after Thanksgiving.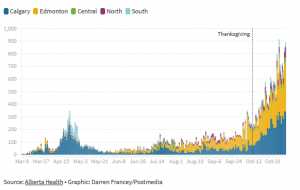 We need you to do your part.
If your child is sick (or you think your child might be getting sick) please keep them at home for 72 hours.
If anyone living in your home is sick ( or getting sick), please keep your child at home for at least 72 hours.
Wear a mask and limit your exposure to the virus by limiting the places your visit.
If anyone you, your child, or people living in your house has come into contact with someone who has tested positive for COVID, Your child may not attend daycare until the quarantine period is up.  Please limit your time outside your home.
If you are not at work or at school, please keep your child at home!
We will soon be asking you to answer questions in our App!  This will help you remember all of the rules- thank goodness a vaccine is coming!
We are also changing our Christmas Break to limit the spread of the virus after the Christmas celebrations.  Instead of closing early on December 18 and being closed from December 21-25 and again on January 1, we will close at regular time on December 23 and remain closed until January 4.  We hope this extra half-day prevents the spread of  any virus contracted during Christmas celebrations.
Here are the CDC's Suggestions for Thanksgiving.  Please keep us all safe by limiting your exposure to people outside of your home!  If you must be exposed, please wear a mask!
https://www.cdc.gov/coronavirus/2019-ncov/daily-life-coping/holidays.html