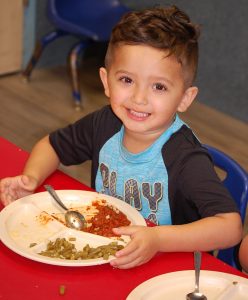 Early childhood is an amazing time of growth and learning.  During this age, children are forming beliefs about what foods they like and do not like,  They notice the foods that their role models eat, and we want to help our children form health eating habits (adapted from USDA Nibbles for Health).
We want your children to enjoy their breakfast, lunch, and afternoon snack at the San Angelo Early Chilhdood Center so we offer a varied menu through the Child and Adult Care Food Program!  We serve versions of kid favorites such as chicken nuggets, egg mcmuffins, burgers, and fries,  made with healty ingredients such as protein, whole grains, and fruits and veggies!  Here is an example of our menu:
Breakfast:
Sausage and Egg Burrito, Whole Grain Sausage Breakfast Pizza, Whole Grain French Toast, Sausage & Cheese Muffin, Pancakes and Strawberries
Lunch:
Whole Grain Sloppy Joe, Whole Grain Pizza, Chicken Penne, Macaroni Mess, Chicken Fajitas, Chicken Nuggets
Afternoon Snack:
Beans and Tortillas, Watermelon, Berry Banana Split, Goldfish & Pickles, Tootie Chip Dip with Graham Crackers
You can help your child form healthy eating habits at home to!  Check out these USDA Newslettera for a fun activity to complete with your child!