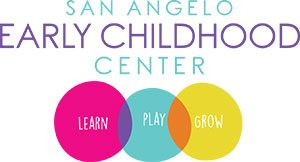 Dear Families:
The San Angelo Early Childhood Center is open to all families who are working, going to school, or ACTIVELY seeking employment on June 1, 2020.  We do have some rules that will remain in place until further notice:
YOU MUST BRING A LETTER FROM YOUR EMPLOYER OR YOUR SCHOOL SCHEDULE BEFORE LEAVING YOUR CHILD IN OUR CARE.  IF YOU ARE SEEKING EMPLOYMENT, PLEASE CALL NELY AT 325-653-1825 BEFORE BRINGING YOUR CHILD.
Keep your child at home if they are experiencing a temperature over 99º We will be checking temperatures at the door and throughout the day and sending any child with a fever or COVID symptoms home.  You may bring your child back after s/he has been symptom and fever free (without a fever reducer) for 72 hours.
Keep your child at home if anyone in your family is ill.
Only ONE person may enter the foyer for drop-off/pick-up. Please do NOT bring any school-age children in at this time.  Parents MAY not enter the building.
We will be providing disposable cups providing cups to children 2 and older. Please bring a sippy cup for children under 2.
Please ensure that your emergency contact numbers are current. If your child shows signs of illness, s/he will be cared for apart from other children.  You will have 30 minutes to pick up your child or we will be forced to discontinue your child's care in our Center.
Please arrive before 9:00 AM to allow us to make staffing decisions and ensure that we are in the required classroom ratios.
DO NOT BRING TOYS from home.
DO NOT leave your child in our care unless you are working or in class. The fewer children here at one time, the smaller the chance that we are exposed to COVID 19.
You MUST inform us immediately if you have had contact with someone tested for COVID 19.
Use your SAECC Swipe Card to check your child in and out each day. Lost cards are $25. Failure to check your child in and out repeatedly may result in a fine.
PLAN FOR DELAYS IN DROP OFF AND PICK UP AS ONLY ONE FAMILY MAY ENTER THE FOYER AT A TIME.  PLEASE STAY 6 FEET AWAY FROM OTHER FAMILIES
We know that this is a difficult and uncertain time.  As always, every child's safety and wellness is important to us.  Our board is meeting as many times as necessary to manage our response to closings in San Angelo.  We pledge to provide you with information on any changes as quickly as possible.
Please have a plan for caring for your child if they are ill or if we are forced to close.  We will close if we have a child or teacher tested, a positive case, or if San Angelo has over 40% community spread.  If we close for a test, we will reopen if that test is negative.  If we close for a positive case, we will reopen in 14 days.  If we close due to community spread, we will reopen when the community spread stabilizes.
Remember, we are all responsible to each other to prevent the spread of COVID 19.  Please do your part and practice social distancing, limit travel, and limit shopping and personal outings.
Cynthia